Introduction
S²NANO (Safe & Sustainable Nanotechnology) is a community of various stakeholders (e.g., consumer, researcher, worker, regulators etc.) involved in nanotechnology, which seeks to develop safe and sustainable nanotechnology in terms of our human health and environmental safety. S²NANO aims to derive science-based and data-driven approach to minimize potential human health issues and environmental pollution of nanomaterials while maximizing the benefits of nano- science and technology. To achieve this goal, S²NANO, in particular, provide a variety of contents of measurement/ evaluation/ training with systematic consulting services for safety assessment and regulatory compliance of nanomaterials. Major contents provided by S²NANO include physicochemical characterization and toxicity testing of nanomaterials, and relavant databases and expert systems, which will enable consumers to overcome concerns about potential human hazards of nanomaterials and environmental pollution, and help industries preemptively develop strategies based on the concept of 'safe by design'.
Activities & Services
Measurements & Assessments : S²NANO is providing protocols and measurement/ assessment services using various analytical equipments (e.g., DLS, TEM, NTA, sp-ICP-MS) on the size, shape, composition, physical/chemical properties and biological/toxicological effects of nanoparticles (e.g., toxicity/efficacy). S²NANO, in particular, is offering diverse nanosafety contents on measurement /assessment protocols, test guidelines, database, etc. which are related to the regulatory compliance of nanomaterials and products.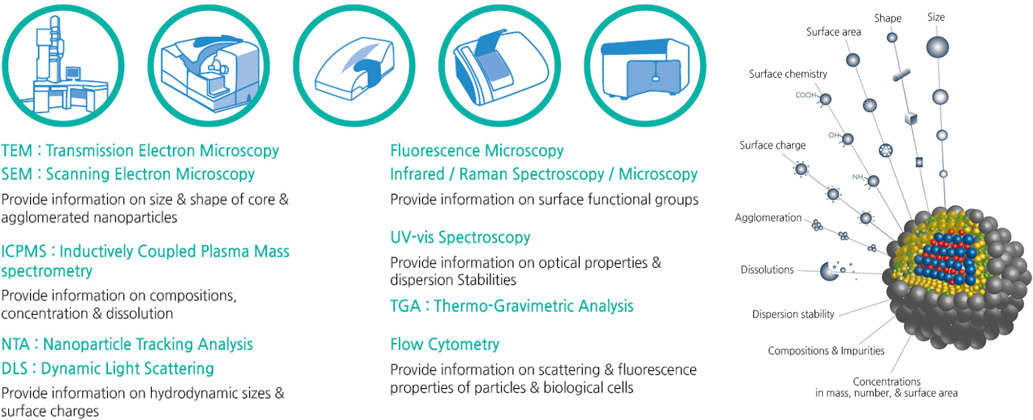 Database / Datawarehouse
In addition to the collection of experimental datasets of nanomaterials, S²NANO used various data mining techniques to build nanosafety datasets from literature. Datawarehouses are also built to manage collected databases and to provide user-friendly interfaces for the pre-processing, visualization, and interpretation of physicochemical datasets and toxicity predictions of nanomaterials.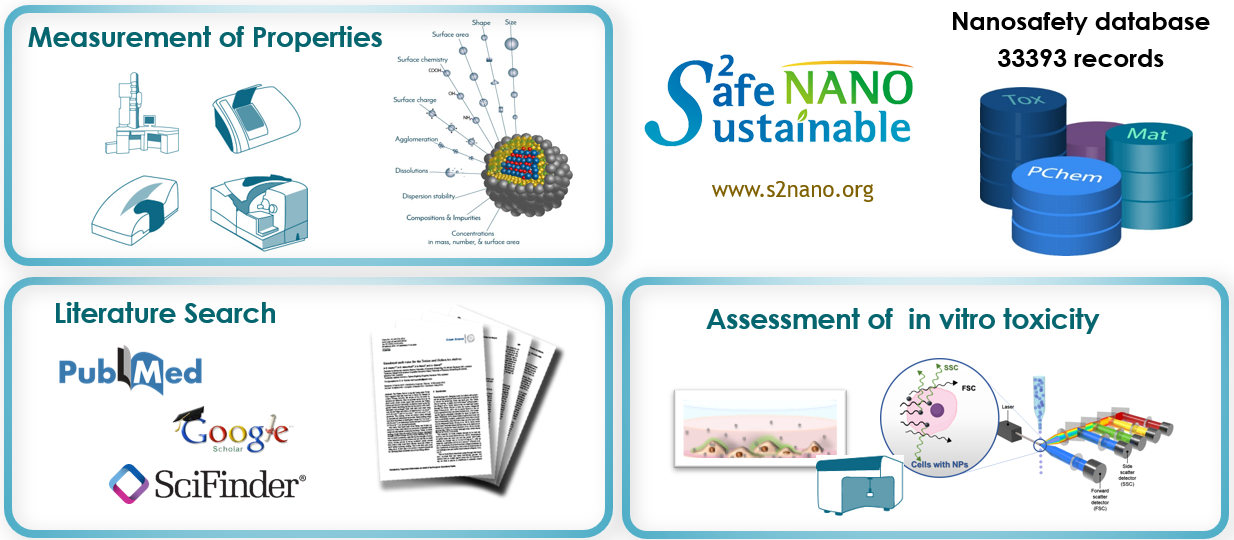 Predictive Model Developments
S²NANO have developed 13 nanosafety prediction models with accuracies > 80% (internal validation) and further verified them through external validation procedures. Predicted models developed by S²NANO have been published in International journals. Additionally, S²NANO is also participating in NanosolveIT, an international research consortium for EU H2020 project.
Education / Training Services
S²NANO provides hands-on training on the entire processes of nanosafety assessments, from measurement to predictive model developments. To this end, we have equipped with NTA, DLS, TEM, sp-ICP-MS instruments and related protocol databases for the characterization/assessments of nanomaterials.
Consulting
S²NANO provides consulting services for the entire process from measurement to predicting environmental and human hazards. In particular, we provides information on predicting in-silico-based nanosafety for developing direct regulatory compliance strategies for EU-REACH, and K-REACH.
Portal
S2NANO Portal
provides services like sophisticated analytical method, educational training data on nanomaterial characterization.
provides K-REACH and EU-REACH regulatory information on nanomaterials.
provides standard/manufactured nanomaterial information.
1. S²NANO Datawarehouse
determine through analytical method whether or not a substance is a nanomaterial under K-REACH and EU-REACH act.
provides services to producer that can be used in the initial stages of nanoproduct research and development (using prediction models).
2. S²NANO DB
provides toxicity data based on curated physico-chemical character from nanosafety related literatures, reports.
provides toxicity data of nanomaterial through in vivo/in vitro experiment.
3. S²NANO Wiki
provides glossary and abbreviations by building a open knowledge-based(KB) on the safety issues of nanotechnologies.
Pyramid
History
Contact